Products
Screen Printing explained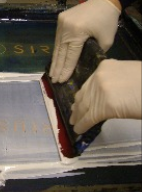 Screen printing is a form of printing using mesh screens coated in emulsion. An image is exposed onto the screen then washed out leaving the mesh clear where the image had been.
A pool of ink is then pulled across the image on the mesh with a rubber bladed squeegee and the pressure forces the ink through the mesh and onto the substrate, producing the printed image.
Versatility is the major advantage in screen printing- as long as the surface is flat it can be printed on.
---
Substrates

Ring Binders – Designs can be screen printed directly onto the cover and spines.
Metal Panels – can be directly screen printed with hard wearing inks.
Fluted Polythene – for example estate agents boards. Specialist inks are used for outdoor use.
PVC- a wide variety of PVC products can be screen printed including promotional gifts with company logos.
Stickers – screen printed in one or more colours for a variety of organisations using quality materials. Just a small selection of the many items that can be screen printed.